Taster Days
Come and Test Drive a Focus Cup Racecar on Track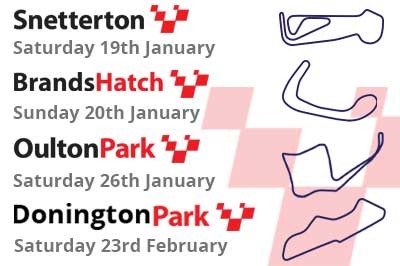 Saturday 19th January – Snetterton
Sunday 20th January – Brands Hatch
Saturday 26th January – Oulton Park
Saturday 23rd February – Donington Park
Come and test drive one of our Touring Car styled Focuses, seasoned racing drivers and novice drivers alike, will both enjoy the feel of this well balanced and torquey machine.
If you fancy yourself as a racing driver but not sure how to go about it come and join us at one of our taster days. The days are open to both total novices and experienced racers wanting to test the Focus Cup Race Car.
Places are restricted so book early by contacting simon@focuscup.co.uk to reserve your preferred track and booking form, first come first served.
The days are organised by MSVT as an open pit lane track day and to participate will require a valid UK Driving Licence. Drivers will receive a minimum of 3x 15minute sessions which should give drivers a good taste of what the Focus racecar is capable of.
The day usually starts with signing on at 8.00am and a mandatory briefing at 8.30am. The track opens at 9.00am for sighting laps and goes live at 9.30am. There will be a lunch break for 1hr, the time of which will be confirmed on the day. It is planned that all drivers will receive 3x 15 minute sessions throughout the day. Depending on the drivers experience, we will determine whether they are accompanied or not. There will be three cars at each event with a maximum of 12 places (4 people per car). If everything runs smoothly with minimal red flags and hold ups drivers will receive more sessions in the cars until the end of the day, usually 4:30pm – 5:00pm depending on light. If you can only attend the afternoon let us know in advance and it may be possible to arrange a lunchtime briefing. Full insurance is not included but any driver causing damage to the car during their session however caused is liable for repairs to a maximum of £2,000.00. Parts at cost and labour at £45/hr.
The cost for a taster day is £300+VAT per driver which includes track time, fuel and tyres. This must be paid in advance to secure your place. On receipt of your signed booking form you will be emailed an invoice. The preferred payment method is Bank Transfer but we also accept card payments and PayPal. No refunds for cancellations. If you decide to join the Championship for 2019 then the taster day Fee will be deducted from the first rounds invoice.